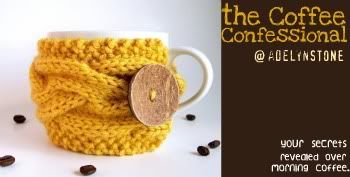 Confession #1
I love things that are mini-mini animals, mini cupcakes...if you can find the miniature form of something, I'll probably like it. The exception to this rule is mini corncobs. I positively loathe them and find them to be somewhat unsettling. They look like they belong on an episode of X-files rather than in my food.
Confession #2
I love red lipstick but it intimidates me to wear it. I've always thought "I'll wear it when I'm more grown up" Oh wait...
Confession #3
I had Red Bull every day this week and feel no shame.
Confession #4
I have to check my alarm at least 3 times before I'm able to sleep.
Confession #5
I can't stand hipsters but love mustaches, scarves and Ray Ban wayfarrers.
Confession#6
I love planning, but I'm not good at following said plans.
Confession#7
I talk at the TV. When something happens in a movie that I don't like, I make sure to voice my opinion. I also ask questions I don't want the answers to. "Is *character's name* going to die?" "It doesn't end this way does it?" Yup, I'm one of those people.