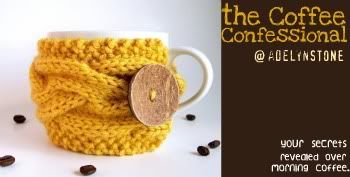 Confession #1-I'm a sucker for sparkly make up and accessories but I loathe sparkly clothes.
Confession #2-Sometimes I crave foods by color. I know. Weird. Like all orange food, all white food, all green food, etc. I don't realize it until it's all on my plate.
Confession #3-I have high expectations when I make a purchase...Whether it is my $1 McDonalds coffee or something far costlier, I expect to get what I asked for. If I don't, well, you'll know.
Confession #4-I love having naturally curly hair. Even though it can be rebellious, it still makes me smile.
Confession #5-I almost freaked out when I thought the lady at the check out wasn't going to card me for the wine I bought. She did, but I felt really old there for a second.
Confession #6-I am really tired of allergy season, and it's only just begun...
Confession #7-I really want a cape for the fall, but I am afraid it will make me look like a hobbit.