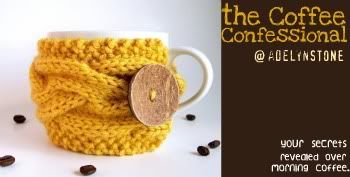 Confession #1
I am afraid of my sewing machine. There, I said it. I bought it last year and I haven't used it yet. I took it out of the box, looked at all the pieces, read through the little booklet, and into the closet it went. I feel rather awful about this and in my mind I am determined to remedy the situation...it just hasn't happened yet.
Confession #2
I "baby talk" to animals, but never to babies. There may be something weird about this.
Confession #3
I am more than a little addicted to Craftgawker.
Confession #4
I chatter incessantly when I have Red Bull. So much so that my coworker has informed me I am not allowed to have it when we are sitting in the same office.
Confession #5-I can easily spend an hour on catsinsinks.com
Confessions #6-I cant catch things very well. Even a small toss at a short distance. I drop things. It's bad.