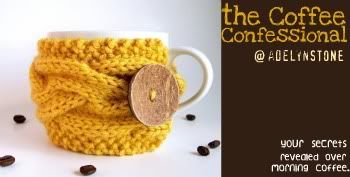 Confession #1-I am a product junkie. In other words, I rarely buy the same thing twice. I'm always on the search for a better product.
Confession #2-Fall is my favorite season. I think I could be happy if it was fall all the time.
Confession #3-I am the queen of the unfinished book.
Confession #4-Sometimes I wake up panicky for reasons unknown to me. It's hard to shake.
Confession #5-I am incapable of giving up coffee. I have tried. It just doesn't work. Coffee makes me happy and makes me a better person, why should I give it up?
Confession #6-I can spend all day watching The Big Bang Theory.